This homily is based on Luke 1:26-38 for the Fourth Sunday of Advent.
When the angel Gabriel appeared to her and told her about God's invitation, Mary asked one question: "How can this be?"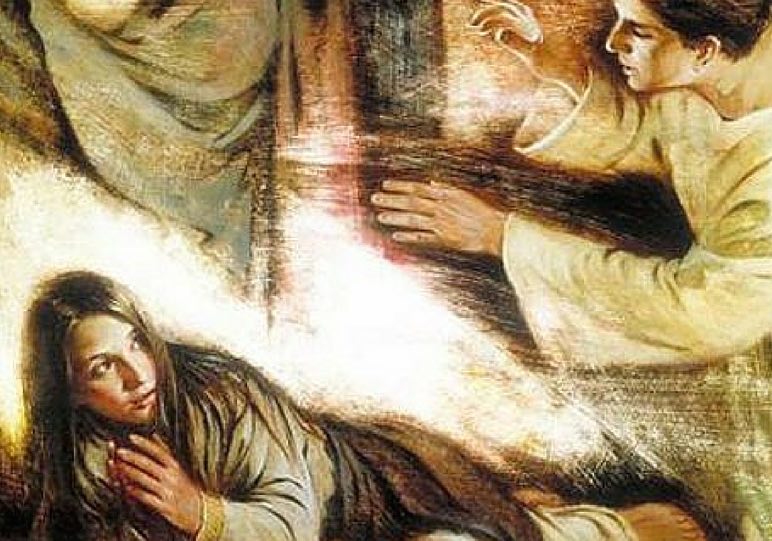 When you think about it, it's a perfectly normal and understandable question. First of all, it was an angel that visited her!  We have no idea what form the angel assumed at the Annunciation, whether Gabriel showed up in full regalia–wings, halo, and all–or whether he actually looked quite ordinary but somehow still managed to communicate the divine presence.
Whatever it was, what we do know is that Gabriel's appearance was perceptibly special enough for Mary to recognize him as an actual messenger from God.
Secondly, what he actually told Mary was, to say the least, mind-blowing. Listen…
"Behold, you will conceive in your womb and bear a son,
and you shall name him Jesus.
He will be great and will be called Son of the Most High,
and the Lord God will give him the throne of David his father,
and he will rule over the house of Jacob forever,
and of his kingdom there will be no end."
We can imagine how in that brief potentially life-altering moment, Mary's whole life might have flashed before her and how her mind might have reeled with every sort of question: "What would Joseph think and would he believe her or leave her? How would her family feel when they find out? What would the neighbors say, and just as importantly, what would the religious authorities do to her, given that in those days, anyone condemned as an adulteress would be stoned to death?"
She could have asked any of these questions–if only to get some kind of assurance from the angel. But Mary chose not to ask any of them even if all of them were legitimate questions. Instead she said: "How can this be?"
The funny thing about such a simple question is that it can mean different things depending on which word you emphasize. I wonder where the emphasis fell when she asked that question. The question changes depending on the word emphasized. If Mary had said, "How CAN this be?" it would have expressed incredulity or even disbelief. It's almost like her saying to the angel: "Impossible!" In today's lingo, it would be pretty much equivalent to "Seriously?"
And of course, the automatic answer to such a question is: "No way!"
But perhaps the word that Mary ended up emphasizing was not "can" but "this," so that when she asked that question, she must have said, "How can THIS be?" Asked in this manner, the question would have expressed not so much disbelief but awe and wonder. In other words: "How can such a mysterious and wonderful thing happen–and how can such a thing happen to me?!"
Mary's reaction to such an incredibly wonderful–but also frightening!–piece of news must have been one of awe and wonder–albeit wrapped in fear. And this is the reason why her response to the angel's invitation was a "Yes."
In the workshop for Jesuits in formation that I am conducting these days, one of our speakers, Fr. Riyo Murasanto SJ, former Superior of the Indonesian Province, gave the following tip on Jesuit life to his listeners: "Say 'yes' even if you are not ready!"
That is exactly what Mary did. She said 'yes' even if she was not ready. But what allowed her to do that? I suspect it was a heart that was opened up by awe and wonder over this incredible breathtakingly wonderful mystery that we have come to call Christmas.
May our hearts, like Mary's, be flooded with awe and wonder this Christmas so that our hearts may be pried open for God.