This reflection is based on Mark 8:27-35.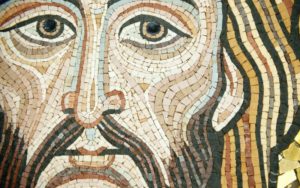 In today's Gospel, our Lord asks His disciples a life-defining question: "Who do you say that I am?" It is a life-defining question because the way we answer that question–who, for us, Jesus is–should have tremendous consequences on our lives. Who we say–and believe–Jesus is, if taken seriously, must affect our decisions and shape our actions.
Peter's answer to that question, which he makes on behalf of the disciples, is simple and straightforward enough: "You are the Christ." In giving this answer, he is professing that Jesus is the fulfilment of Israel's longings even if he may not at the time fully understand what this means and what it entails.
But the consequences of this response are deep and far-reaching in their lives. The disciples of Jesus leave their homes, their work, their families, and their former lives in order to follow Jesus. Their lives have, in the process, been defined by their response to Jesus' question. In many ways, more than the actual words of Peter, the way they have lived their lives is the real response to Jesus' question.
How about us? What is our answer to this question? Let's think about it for a while.
But also remember: Whatever our verbal answers are, as in the case of the disciples, the real response is our lives as defined by our answers.
If we say that Jesus is our Lord, how much weight do we actually give to His teachings and commands when we make the important decisions in our lives? If indeed He is Lord, He ought to rule over our decisions and actions.
If we claim that Jesus is a Beloved Friend, how much serious consideration do we make of Him and His preferences in the same manner we would our dearest friends in the way we allocate our time? Do we give Him ample time? Do we waste time with Him? Do we allot for Him the so-called "primetime" of our days–or does He end up simply making do with whatever leftover time we have at the end of the day, if any at all?
Today's Gospel is a challenge to us not only to answer the question verbally, but to allow our answer to make a real difference in our lives.