This address was delivered by the author after his profession of final vows on the Feast of the Presentation of our Lord, 02 February 2019, in the Chapel of the Sacred Heart, Xavier School.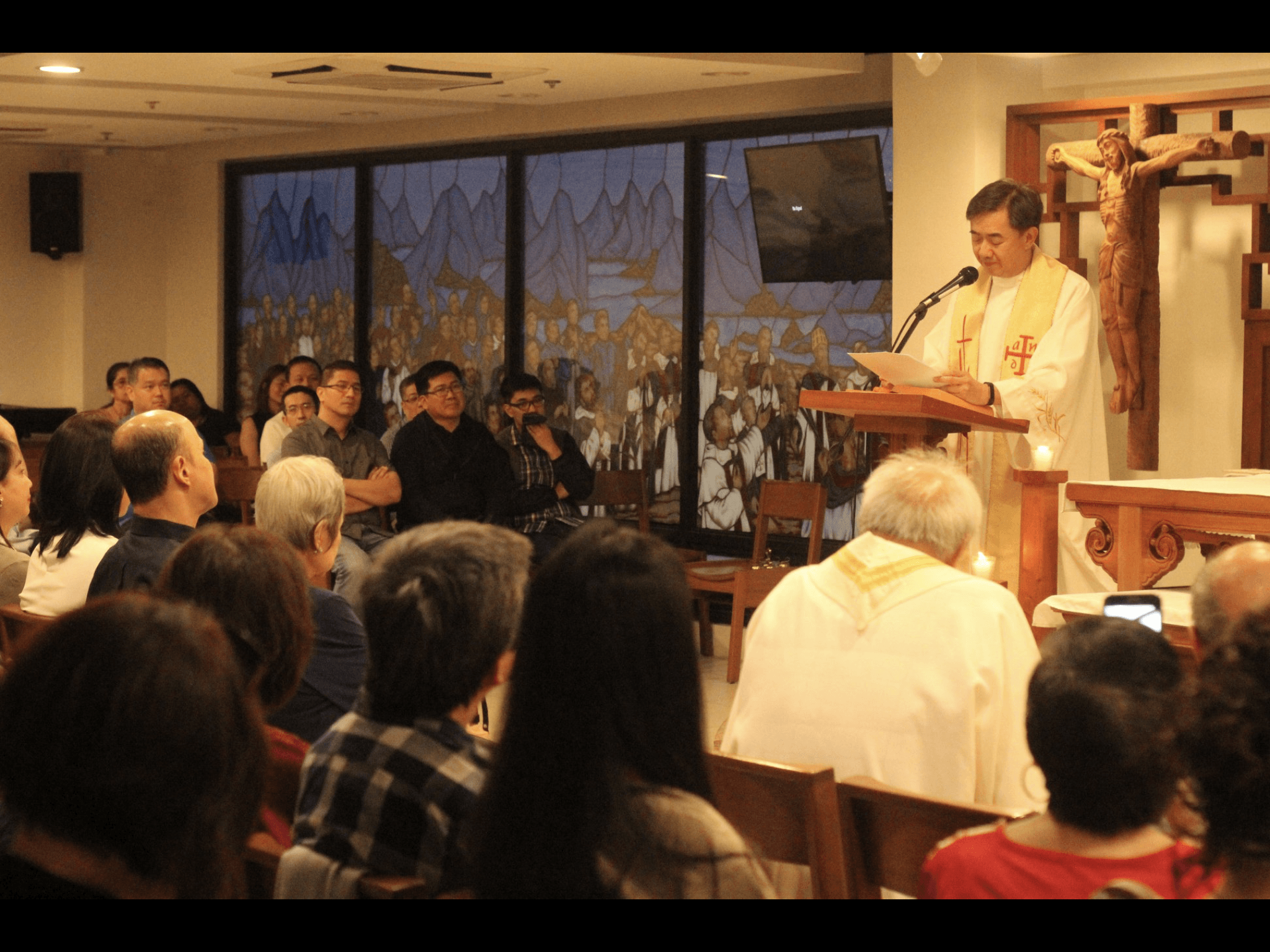 Good evening! Thank you for joining me and my brother Jesuits at this celebration. I have a whole bunch of people to thank!
First of all, I would like to thank the Provincial, Fr. Jun Viray, for presiding at this Eucharistic Celebration. Thank you, Jun V, for your much-appreciated confidence and friendship. My thanks too to my boss for my work in Asia Pacific, also my previous Provincial, Fr. Tony Moreno, for his constant support and trust. A big "thank you" as well to my other boss, Fr. Jett Villarin, President of the Ateneo de Manila University. Thanks, Jett, for agreeing to preach today despite your hectic schedule.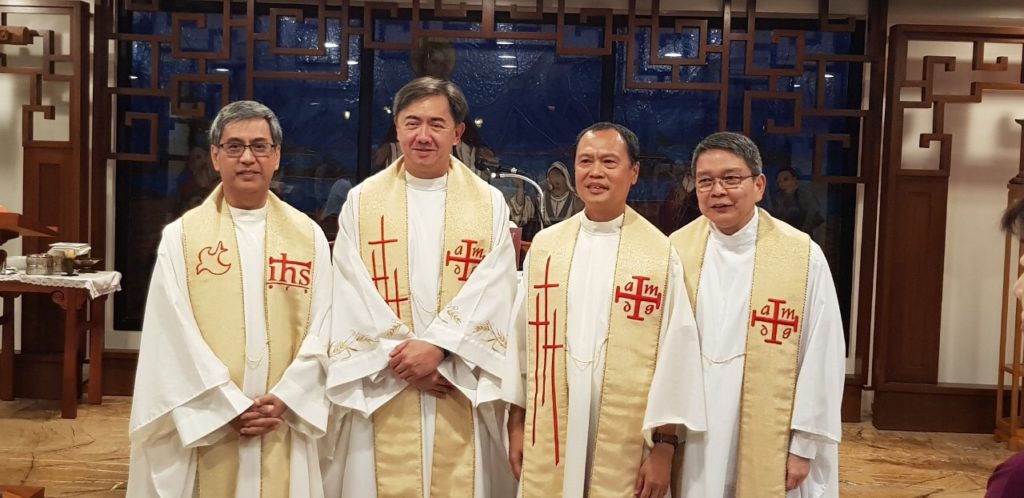 You know, I made him promise not to talk about black holes and climate change. As you can see, the man can't help himself. Seriously though, thank you, Jett: As always, a lovely, moving homily.
I can't believe that I pronounced my First Vows back in 1989–thirty years ago! If I were to pick one word to describe this whole journey, it would be "hundredfold." It's an interesting word, used only about seven times in the gospels, each time by our Lord—as in that instance in Matthew 19 when he tells his disciples:
"Anyone who has left home or brother or sister or father or mother or children or land for My Name's sake, will receive a hundredfold and will inherit eternal life."
In the thirty years that I've been a Jesuit, I have certainly received this promised hundredfold. When you go on a journey like this—as in any journey actually—there are things that you give up and things that you lose along the way. Through this journey, even in all its apparent dead ends and detours, always I've received so much more than I've given up or lost. And today, I'm feeling so overwhelmed with gratitude for every good gift that I've received—but never deserved.
I would like to thank my family—my siblings, my nephews and nieces, some of whom flew home today to join us. I would like to take this opportunity to express my long-delayed gratitude to my brothers and sisters for doing the one thing I needed them to do all those many years ago—to help my late mother let me go. As some of you may know, my mother wasn't exactly thrilled about my decision to enter the novitiate.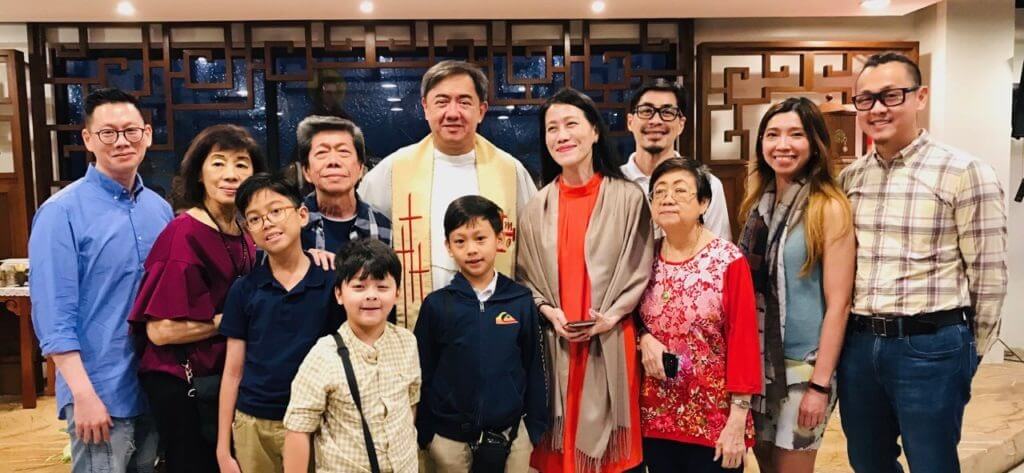 I thank my family for letting me pursue a path that, at that time, was far from certain and certainly far from fashionable. Thank you for supporting me all these years and for loving me even if I was mostly not around—which probably made it easier. All you have to do is ask my sister Julie.
I would like to thank the Society of Jesus. The Society has truly been a mother to me, taking care of me since the time I first set foot here in Xavier as a grade school student and since that day I laid eyes on the very first Jesuits I met in my life: those missionaries from China, men of God who always had both feet planted solidly on the ground, and yet, whenever it was called for, also somehow always had one foot raised in the air, ready to be sent to any mission.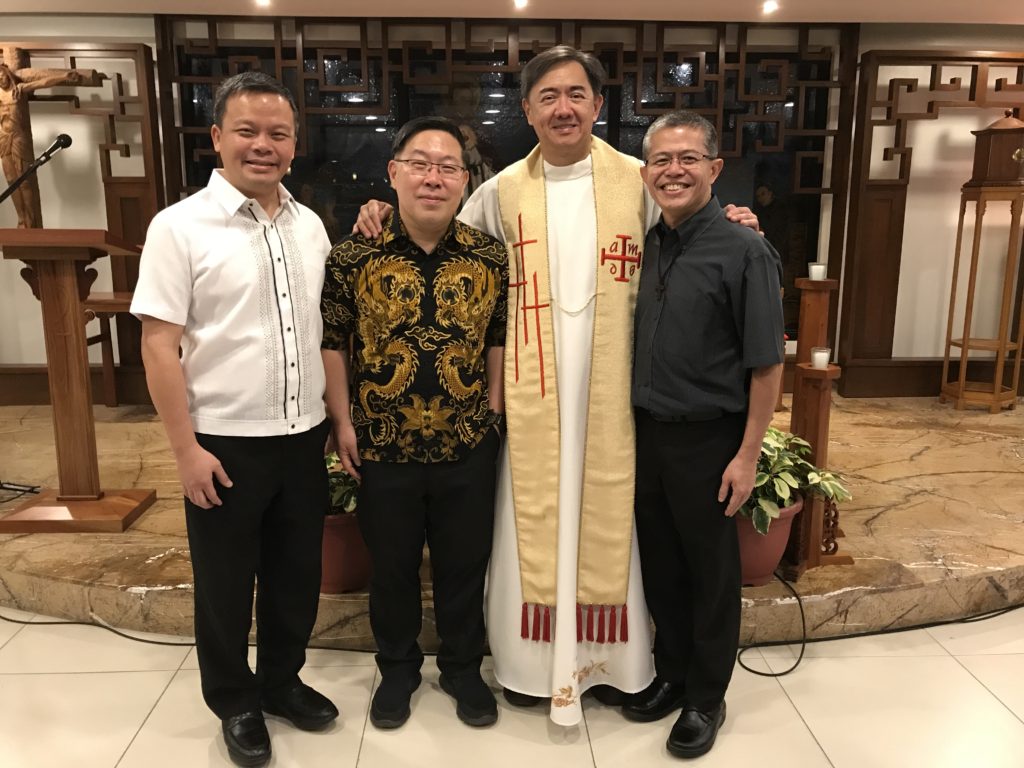 I'm grateful for all the opportunities and assignments that the Society has given me all these years—including my twelve unforgettable years here in Xavier. By the way, when I was first told of this assignment, my Provincial then, the late Fr. Archie Intengan, promised that it would only be for one short year! It has, to say the least, turned out to last a little longer than that, but also a lot more fulfilling.
Special thanks to my spiritual directors and formators like the late Benny Calpotura and Charlie Wolf. I thank them for their wisdom, their patience, and their guidance—for accepting me unconditionally, but also always, for challenging me and inspiring me to find my better self.
I am equally grateful to all the Jesuits who have been my superiors, for treating me always with kindness and humility, and for teaching me what it's like to live and lead like a Jesuit. I think of the late Frs. Ismael Zuloaga and Jerry Martinson, and feel only love and gratitude for them.
I owe such a debt of gratitude to all my Provincials—three of them are here. Aside from Frs. Jun Viray and Tony Moreno, Fr. Danny Huang is also present, fresh from completing his ten-year term in Rome as General Counselor and Regional Assistant for Asia Pacific. You know, Fr. Danny encouraged me to pursue further studies while I was still working here in Xavier—even when I was already in my 50s! Thank you, Danny, for believing that it could be done!
I would, of course, like to thank my brother Jesuits, my companions in this journey—particularly those who have become and have remained dear friends. I wouldn't have been as happy and fulfilled in this life without their companionship—all the memories made and the laughter and tears shared. I'd like to mention those who've been with me—and survived with me—from Day One, my novitiate batchmates: Frs. Bobby Buenconsejo, Charlie Cenzon, Louis Catalan, Gaby Gonzalez, Mars Tan, and those who have joined us here today, Frs. Cesar Marin, Alex Badiola, Ritchie Genilo, and Salty dela Rama.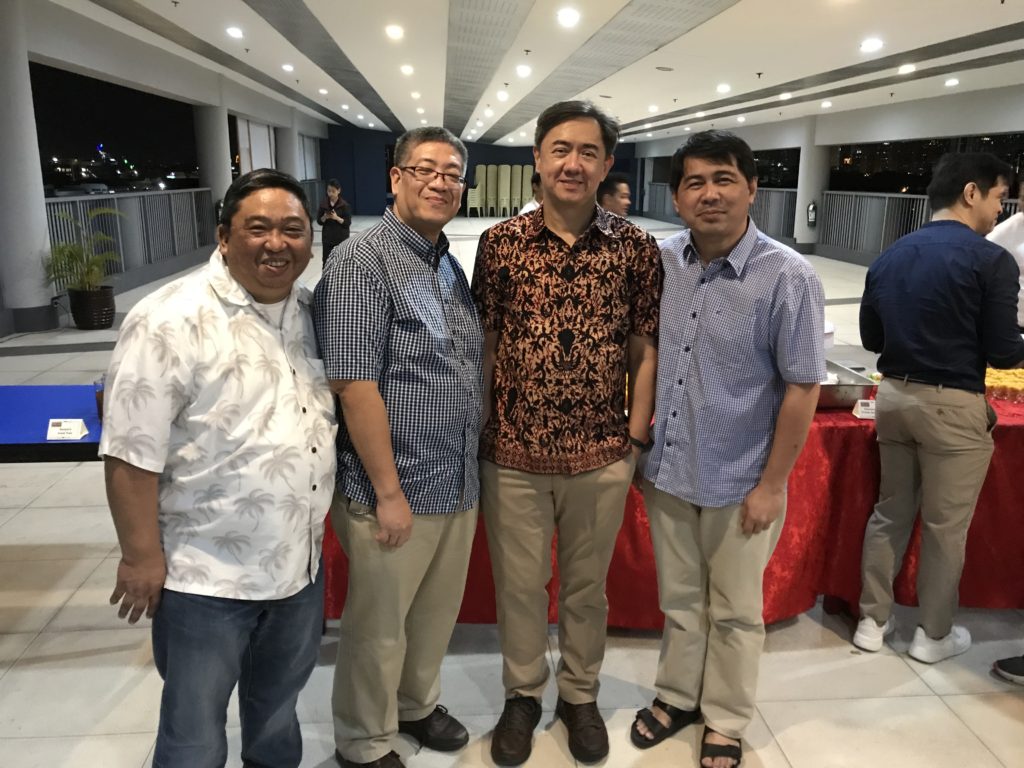 I also thank all the very good friends I've made these many years. There are too many of you to name here, but you know who you are. You've accompanied me in this journey, cheering me on, laughing with me, praying for me, putting up with me, and even giving me a kick whenever I needed it and wherever I needed it! If I was able to persevere in my vocation, for sure it's also because you've never stopped believing that God chooses and uses even broken instruments to do His work.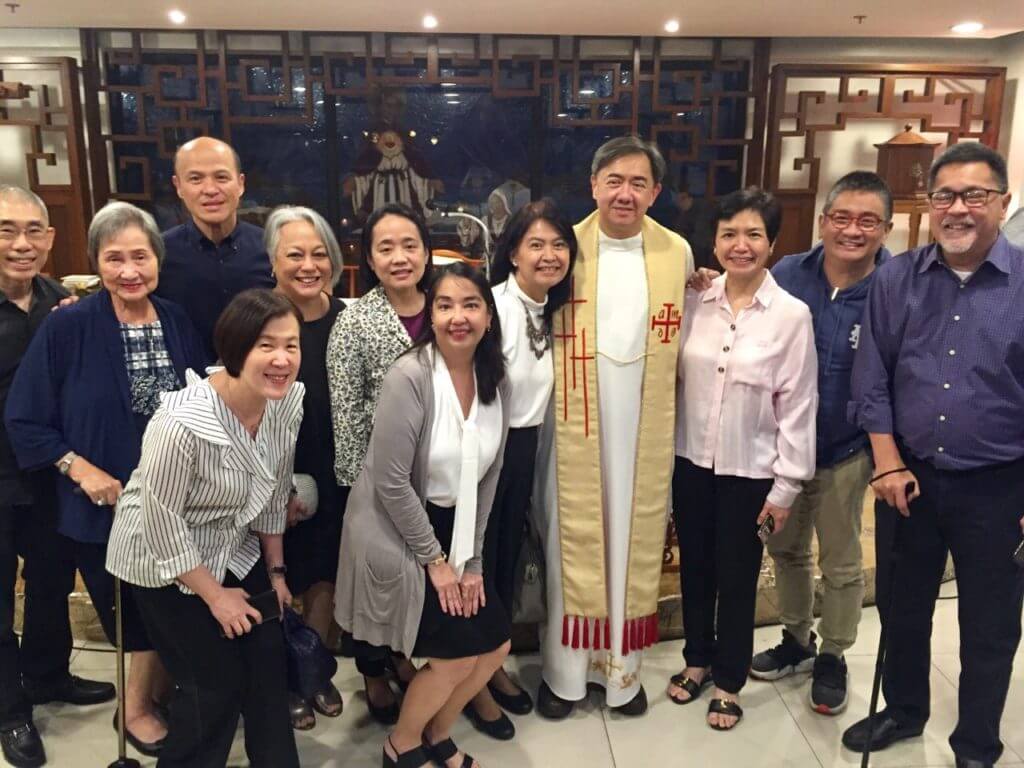 Most of all, I thank our Lord for leading me to a life that has been as interesting as it has been meaningful, as joyful as it has been challenging. One valuable lesson I've learned early on from my Jesuit heroes and idols is that you say "yes" even if you're not ready. Just say "yes." Just do it. Just spread those wings—even when they're feeling weak and inadequate, even when you feel more like folding them up and hiding away. Just stretch those wings—even when you're tired, and even when they're broken. For always, without fail, God will send His wind.
I thank the Lord for giving me the surprising courage to say "Yes" to Him all these years even if at times I fumbled to do so, and I pray that He will continue to grant me the generosity to offer the same "Yes" every day for the rest of my life.
I would be remiss if I fail to thank all those who made this event possible and special tonight. Thank you to our hosts, the Xavier School-Mary the Queen Jesuit Community led by Fr. Xave Olin, Superior, and Fr. Ari Dy, School President. Thank you, Xave and ARi, for hosting this event and for always making me feel at home here in Xavier.
A special "thank you," of course, to our wonderful choir. Let's please give them a round of applause. Thanks to the Bukas Palad Music Ministry, who always somehow manages to show up for all the significant milestones in my Jesuit life, ready to share their music. Thank you for making these moments extra special and memorable.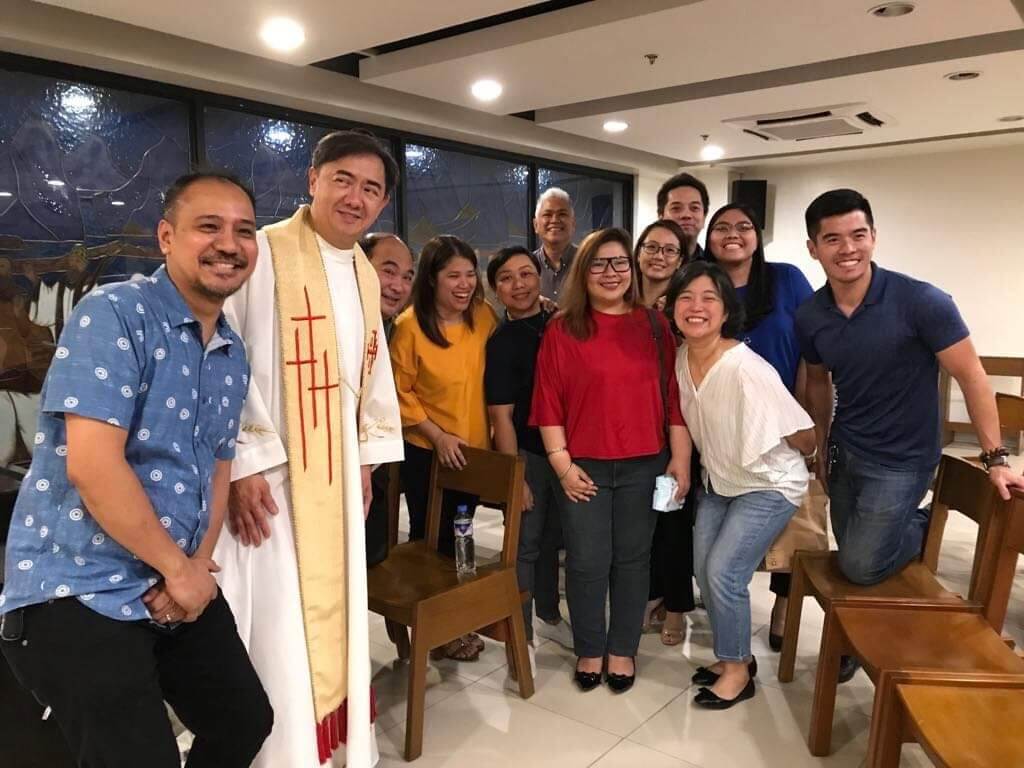 For joining the choir this evening, I would also like to thank my student Marvin Ong, my friend Veepee Pinpin, and the ever-reliable scholastics from Loyola House of Studies. Thanks to their Rector, Fr. Junjun Borres.
Thank you as well to my friend and co-songwriter, Fr. Arnel Aquino, not only for helping out with the music tonight, but also for creating all those songs that have helped me in my own life, never failing to speak to me and to speak for me, always touching my heart at the very precise moments that I most needed it. Arnel, I hope you're finally convinced that I am a fan.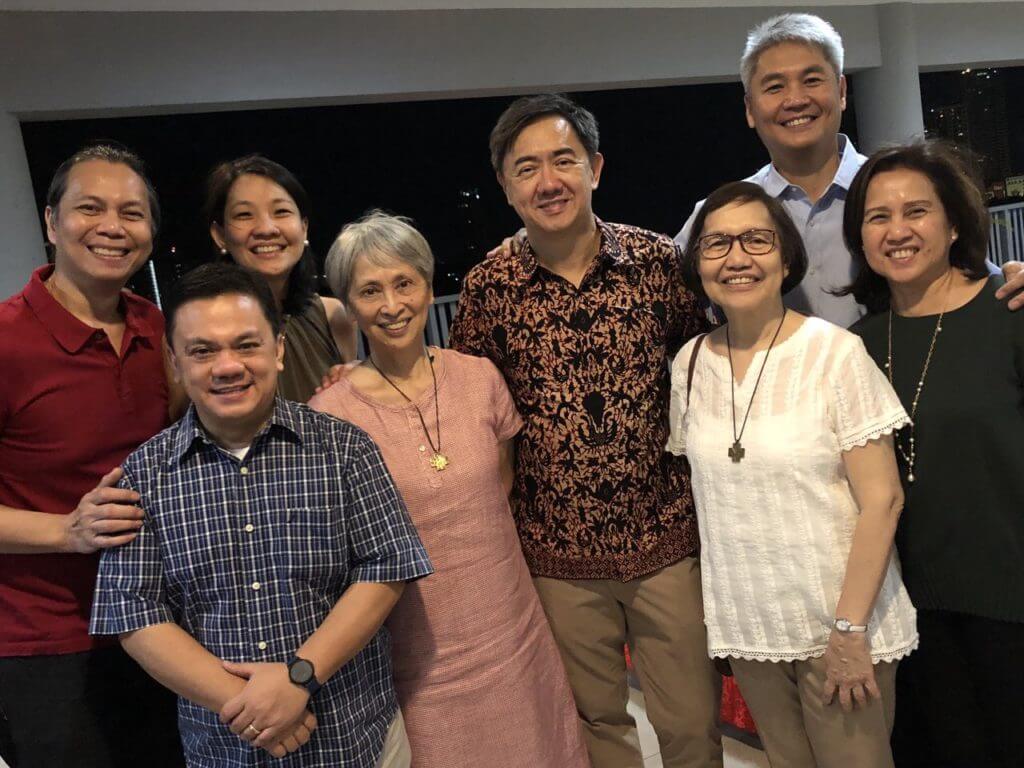 And for leading us at the Responsorial Psalm, singing the same song he sang at my Thanksgiving Mass twenty years ago, also right here in Xavier School, my thanks to Fr. Peter Pojol. By the way, he was actually my student when he was in fourth year high school here, and now he is my superior in EAPI. Even back in high school, he was already always holier than me. Thank you, Peter!
And for all the "behind-the-scenes" work to organize this event, a big "thank you" to my ever-dependable friends, Je Ching, Binggoy de Ocampo, Joey Magpily, Hope Ocampo, Tonette Espina, Carina Maravilla, and Fr. Art Borja!
Once again, thank you all for joining me and my brother Jesuits at this special moment in my Jesuit life. Please keep us always in your prayers. Thank you and God bless you all!
Photos courtesy of Carlo Tanseco, Jasper Martin SJ and friends